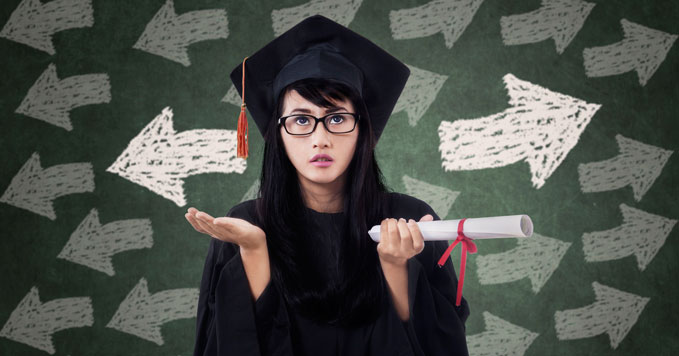 You've graduated, what comes next?
You've graduated with a degree in your hand, a smile on your face, and hope in your heart. You're going to do what you love, and hope to make a difference in the world. There's just one question: How?
When you've dedicated three years of your life to education, you don't want to struggle to find a job that is perfect for you. Along with campus recruitment assistance, there is a lot of help available to you. Here are some options to consider while you're searching for your dream job:
Start searching: Be prepared, mentally. The real world is not all fun and games. You need a thick skin and a lot of patience to get through the job searching process. Even if you don't ace your first interview, you can learn from the experience. Put together well-thought-out applications, and use a video profile resume, whenever possible. Don't be afraid of seeking out professional help. A willingness to learn is always an added plus!
Build experience: Internships and work experience are always a bonus. Relevant work experience can include anything from shadowing a senior professional for a few weeks to working at an office for six months. An internship is a good way to make your CV stand out, and showcase your experience in the relevant field. It is also a good way to show prospective employers that you're taking your career seriously, you're ready to work hard, and you've already started building your strengths.
Social Media: Make sure your online presence is clean. Nowadays, recruiters take a look at your social media pages. Your Facebook, Twitter, and LinkedIn should be up-to-date. You should have an active presence. If you think you have nothing to hide, Google yourself, and scrutinize your profiles from a professional perspective. Delete any old embarrassing relics from YouTube, and spruce up your online brand.
Know the industry: Apart from researching the companies you're applying and interviewing for, you should know your industry well. Have an understanding of the political and economic context of the industry you aim to work in. Be aware of the latest developments. Most importantly, be sure of where your prospective employer fits into in the industry, and what your role will be.
Be updated: Keep up with the current affairs. Be tuned to the local and international news. In between applying and interviewing for jobs, consume as much news as you can. It is very common for employers to ask questions about the general news during their interviews.
It is very easy to put a lot of pressure on yourself when you graduate. However, keep in mind that this is the time to experiment. Learn from your mistakes. The key qualities you need to portray are enthusiasm and passion. Think about the reasons you're applying for the job and remember to showcase what you offer that someone else doesn't.
Testimonials
---
"HireMee has been a great experience for our students and the college. HireMee helped us understand where our students stand and showed us areas where they needed additional training. From the demo session to the exam, your team has been a tremendous support to us."
Ramakrishnan & Naveen Kumar,
Placement Officer, Salem College of Engineering and Technology
The selection process of your company looks unique. It is automated, lean and agile. From the PO's perspective, it ensures that every data is uploaded by the student and ensures its accuracy. From the student's perspective, the experience is seamless as he can upload data from anywhere.
S.Sivaramakrishnan,
Training & Placement Officer, Nandha Educational Institutions, Erode
The HireMee platform gave us an opportunity to showcase our talents which in turn resulted in getting placed in our dream company. The job assessment test was very useful to us. It helped us to reach our job goals. The assessment platform is innovative and allowed us to upload 20-second video resumes.
Malasri,
Final Year CSE, Sir C R Reddy College of Engineering
I got selected for Vee Technologies through the HireMee Platform. I would like to thank you for such a platform which tests all the skills needed by recruiters. The HireMee app is more like a social network with a lot of interesting features which makes the job search easier.
Ramya Sree,
First Year CSE, Sir C R Reddy College of Engineering
Hiremee is a good platform for freshers seeking placement in reputed companies. The Hiremee platform has such an environment with more than 30 companies. The assessments tests the subject knowledge and mathematical knowledge of the candidate. The subject related questions are simple and logical. There is also a phase where they test our positive attitude.
Abdul