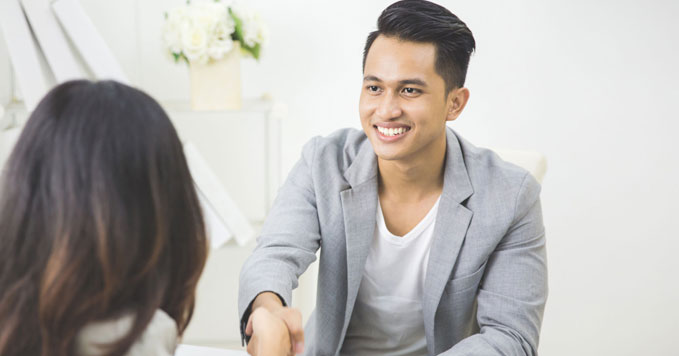 Answering All Your 'First Interview' Questions
Every year, lakhs of students graduate and begin their search for a job. Every year, thousands of companies hire graduates who contribute significantly to the growth of the organisation. Every year, interviews are held to bridge this gap. This year isn't going to be any different.
As the exam season is nearing, it is but obvious that preparations are on. While it's important to be prepared for your exams, it's also important to be prepared for the interviews that'll follow. Which is why we have put together points, which we hope will answer many of your questions regarding interviews and will help you prepare for them confidently. The points given below mainly emphasise on what you should 'do' in an interview.
Honesty: It's your first interview and being nervous is normal. What's not normal is to lie in the interview. Also, when you lie, it becomes evident and clearly shows on your face. Answer every question with conviction and make sure you speak the truth because companies don't just look for skill but also for character, which plays a big role in building a team. Being honest is the only way to stand out. So, be yourself.
To The Point: Talking to your friends and family is one thing and talking to the interviewer is quite another. Irrespective of whether the interviewer is stern or easy-going, answer to the point. Be professional with your replies and be careful because you are being judged for every word you speak.
Be Practical: There are times when the interviewer might want to test your patience or want you to react in a particular way. So be alert. Don't get carried away by a joke or feel disappointed by a negative remark. Just be practical and concentrate on what you're here for: the job, the job, the job.
Accept What You Don't Know: Many times, we believe that not knowing something is a sin. Which is not the case. There are times when the person interviewing you could intentionally ask a totally unrelated question, hoping you would accept the fact that you are not aware of what's being asked. By answering something just for the sake of it, you do more harm than good.
Be Open To Views: Remember that an interview is a conversation between two or more people and you're the one who's a novice. Be humble and wear a smile even if the interviewer disagrees with you, doesn't appreciate your skills, or thinks you do not fit the bill. Truth is, even you aren't sure of what you're capable of. Take feedback, negative or positive, and see how you can work on it later.
These are just a few of the many points to consider before knocking on the door of a company to give an interview. What you also need to consider is campus recruitment assistance as it will help connect you to companies. Today, many portals offer services for job seekers but only a few offer free registration and free services. Be wise and choose the best. Be ready for your first interview questions with these points that will help you ace any interview!
Testimonials
---
"HireMee has been a great experience for our students and the college. HireMee helped us understand where our students stand and showed us areas where they needed additional training. From the demo session to the exam, your team has been a tremendous support to us."
Ramakrishnan & Naveen Kumar,
Placement Officer, Salem College of Engineering and Technology
The selection process of your company looks unique. It is automated, lean and agile. From the PO's perspective, it ensures that every data is uploaded by the student and ensures its accuracy. From the student's perspective, the experience is seamless as he can upload data from anywhere.
S.Sivaramakrishnan,
Training & Placement Officer, Nandha Educational Institutions, Erode
The HireMee platform gave us an opportunity to showcase our talents which in turn resulted in getting placed in our dream company. The job assessment test was very useful to us. It helped us to reach our job goals. The assessment platform is innovative and allowed us to upload 20-second video resumes.
Malasri,
Final Year CSE, Sir C R Reddy College of Engineering
I got selected for Vee Technologies through the HireMee Platform. I would like to thank you for such a platform which tests all the skills needed by recruiters. The HireMee app is more like a social network with a lot of interesting features which makes the job search easier.
Ramya Sree,
First Year CSE, Sir C R Reddy College of Engineering
Hiremee is a good platform for freshers seeking placement in reputed companies. The Hiremee platform has such an environment with more than 30 companies. The assessments tests the subject knowledge and mathematical knowledge of the candidate. The subject related questions are simple and logical. There is also a phase where they test our positive attitude.
Abdul