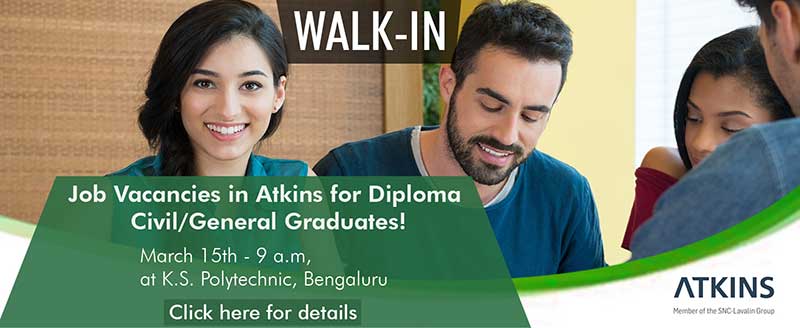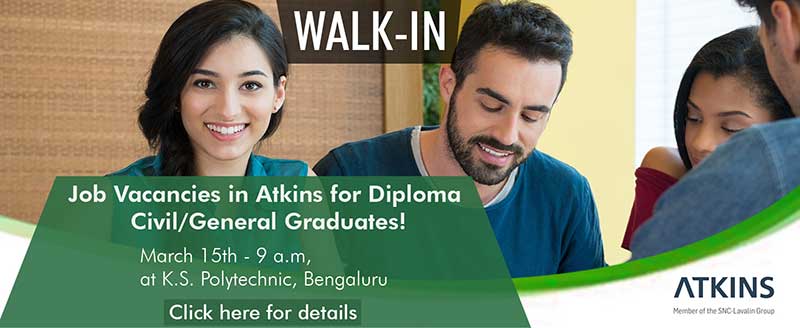 Job Vacancies in Atkins for Diploma Civil/General Graduates!
2018
Are you:
Diploma Civil/ General Graduate passed out in academic year 2016 and 2017 without backlogs.
Computer literate. Auto CAD background would be an advantage but no compulsion.
Reasonable communication both verbal and written - Score of at least 5/9 in communication skills.
Willing to join immediately in weeks' time
Enthusiastic, able to adopt a flexible approach to varying workload.
Willing to work in shifts and any Atkins India office locations.
This is a great opportunity to learn new skills, for personal development, and to get on the fast track to a fantastic career!
Your responsibilities will be:
To identify and ascertain pavement distresses (Road/Highway Cracks) and their severity.
To identify and capture road asset information.
To be a team player and deliver responsibilities by meeting deadlines
Monitor in-coming and out-going work-load, and inform the Team Leader of any issues.
To be a competent user of the various systems / databases / GIS mapping / AutoCAD.
To liaise with fellow colleagues daily and build up a good working relationship
To support with additional ad hoc activities as required by line manager.
Working to tight timescales and following an approved methodology will be key feature of the role.
If you're ready, walk in at the following venue, date, and time for the interview!
Assessment date : 15th March, 2018
Assessment Time: 09:00 AM
Assessment Venue : K.S. Polytechnic, #14, Raghuvanahalli, Kanakapura Road, Bengaluru- 62
Salary will be discussed at the time of the interview.
HireMee wishes you all the best!