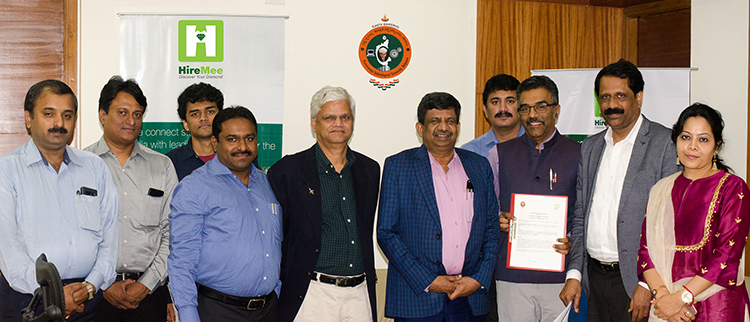 HireMee Signs MOU With Visvesvaraya Technological University
HireMee is a web portal and mobile application that connects the corporate world with academic institutions in order to facilitate faster, easier, and accurate placements across India. Signing a Memorandum of Understanding (MoU) with Visvesvaraya Technological University is in line with HireMee's objective of making students and prospective employers connect meaningfully.
A CSR initiative by a reputed group of companies, HireMee is committed to bridging the gap between prospective recruiters and fresh graduates, especially in Tier II and Tier III towns.
According to the agreement, HireMee will provide a unique skill testing and recruitment platform solution to all colleges affiliated to VTU. VTU will support HireMee in extending its services to all its affiliated institutions, by increasing HireMee's awareness amongst the student community.
This is very feasible for both prospective employers and students. Employers are able to find the right candidate for the position, while the student gets an opportunity to prove his/her mettle, in order to secure that much coveted dream job.
VTU has the distinction of being one of the few universities in India to have 16 of its affiliated colleges recognized by the World Bank, for getting assistance to set up state-of-the-art laboratories, campus facilities and research centers, under the TEQIP (Technical Education Quality Improvement Program, a Government of India initiative) program.
VTU has a large student body which will benefit from HireMee's association with the university. The students now have access to a number of promising roles which they can consider after finishing college.
VTU offers a number of courses and a diverse student body attends the university. The courses are both graduate and masters programs. The university also has over 2000 research centers in 75 affiliated colleges. VTU has always been known for pushing the envelope in India, where education is concerned.
A graduate is usually in a very precarious position after college gets over. There is the urgency to start working, yet the uncertainty that arises out of lack of proper guidance sometimes overpowers the motivation to work. HireMee aims to eliminate that, by offering a skills based test, which grades students according to their performance in certain areas, and by allowing students to create a video resume, which is a great way for the students to showcase their prowess to prospective employers.
HireMee aims to help students across the country by providing guidance and infrastructure, and above all, an opportunity to secure the dream job they have always wanted!
Testimonials
---
"HireMee has been a great experience for our students and the college. HireMee helped us understand where our students stand and showed us areas where they needed additional training. From the demo session to the exam, your team has been a tremendous support to us."
Ramakrishnan & Naveen Kumar,
Placement Officer, Salem College of Engineering and Technology
The selection process of your company looks unique. It is automated, lean and agile. From the PO's perspective, it ensures that every data is uploaded by the student and ensures its accuracy. From the student's perspective, the experience is seamless as he can upload data from anywhere.
S.Sivaramakrishnan,
Training & Placement Officer, Nandha Educational Institutions, Erode
The HireMee platform gave us an opportunity to showcase our talents which in turn resulted in getting placed in our dream company. The job assessment test was very useful to us. It helped us to reach our job goals. The assessment platform is innovative and allowed us to upload 20-second video resumes.
Malasri,
Final Year CSE, Sir C R Reddy College of Engineering
I got selected for Vee Technologies through the HireMee Platform. I would like to thank you for such a platform which tests all the skills needed by recruiters. The HireMee app is more like a social network with a lot of interesting features which makes the job search easier.
Ramya Sree,
First Year CSE, Sir C R Reddy College of Engineering
Hiremee is a good platform for freshers seeking placement in reputed companies. The Hiremee platform has such an environment with more than 30 companies. The assessments tests the subject knowledge and mathematical knowledge of the candidate. The subject related questions are simple and logical. There is also a phase where they test our positive attitude.
Abdul