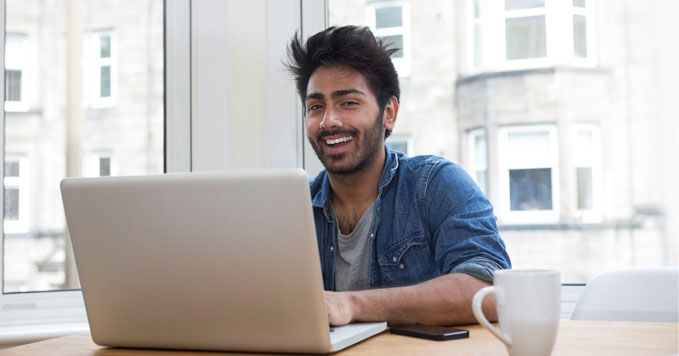 How to Improve Your Web Presence for Your First Job Interview
Nowadays, 55 percent of employers reject potential employees after a social media check. Your online footprint is as important as your physical appearance during an interview. There is usually a pre-interview, as well as a post-interview analysis. This involves not just reviewing your CV on the job portal, but a check of all your social media profiles.
Your 'online footprint' is usually classified into positive, negative, or neutral. Your achievements and mistakes are judged even before you enter a new workplace. Therefore, managing your visibility on the Internet is an important aspect while applying for a job.
Considering there are ample jobs for freshers and you will soon be entering the world of business, be informed that all your actions online will be scrutinised. Manage your Internet visibility with the tips mentioned below:
LinkedIn: LinkedIn is one of the biggest social networks in the professional community. Every recruiter will expect you to have a profile on LinkedIn. A third of all professionals are already on this website. Your LinkedIn profile must be up-to-date, and include information about your education, projects, certifications, and so on. A short, descriptive summary should also be included.
Be comfortable with video screening: A lot of potential employers prefer a pre-screening round on Skype, especially for outstation candidates. You can showcase your Skype ID on your resume, so that it gives the recruiters a quick call-to-action. Another way to use video screening to your advantage is to make a video resume.
Subscribe to blogs: Subscribing to relevant blogs will keep you updated. Weekly blogs, seminars, emails, and webinars hosted by various corporates in your industry will keep you up-to-date. It will help you understand the industry, and keep up with the latest achievements.
Avoid social excitement: Tweeting or posting updates about your job or workplace can get you into trouble. Talking about upcoming interviews and potential recruiters on social media might create a negative impression on your employer.
Connect with employers: With new job portals for freshers coming up as well as campus recruitment assistance, connecting with potential recruiters is easier than ever before. You need to be clear on what you want to do, which location you want to work from, and so on. Being specific will make it easier for potential employers to recruit you.
Finding a job requires effort and planning. However, with the help of the Internet, this search has become much less complicated. Take the aforementioned tips into consideration and get one step closer to your dream job!
Testimonials
---
"HireMee has been a great experience for our students and the college. HireMee helped us understand where our students stand and showed us areas where they needed additional training. From the demo session to the exam, your team has been a tremendous support to us."
Ramakrishnan & Naveen Kumar,
Placement Officer, Salem College of Engineering and Technology
The selection process of your company looks unique. It is automated, lean and agile. From the PO's perspective, it ensures that every data is uploaded by the student and ensures its accuracy. From the student's perspective, the experience is seamless as he can upload data from anywhere.
S.Sivaramakrishnan,
Training & Placement Officer, Nandha Educational Institutions, Erode
The HireMee platform gave us an opportunity to showcase our talents which in turn resulted in getting placed in our dream company. The job assessment test was very useful to us. It helped us to reach our job goals. The assessment platform is innovative and allowed us to upload 20-second video resumes.
Malasri,
Final Year CSE, Sir C R Reddy College of Engineering
I got selected for Vee Technologies through the HireMee Platform. I would like to thank you for such a platform which tests all the skills needed by recruiters. The HireMee app is more like a social network with a lot of interesting features which makes the job search easier.
Ramya Sree,
First Year CSE, Sir C R Reddy College of Engineering
Hiremee is a good platform for freshers seeking placement in reputed companies. The Hiremee platform has such an environment with more than 30 companies. The assessments tests the subject knowledge and mathematical knowledge of the candidate. The subject related questions are simple and logical. There is also a phase where they test our positive attitude.
Abdul