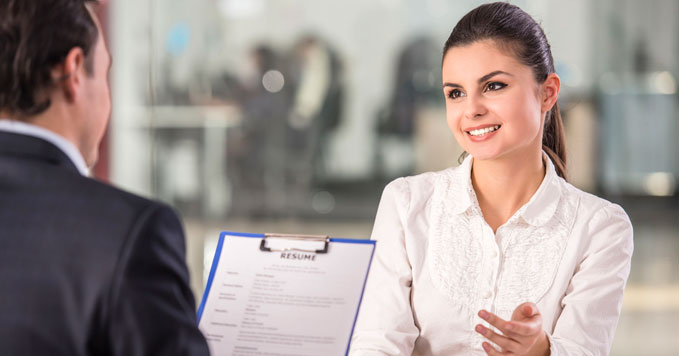 6 Signs You've Definitely Got the Job
Sitting through a job interview is a stressful ordeal. Tensions run high and you begin to think of all the things that could go wrong. The key to acing your job interview is simple – be prepared for anything and most important of all, be confident and believe in yourself. If you have any doubts or queries about what steps to take next, seek out our campus recruitment assistance and let us help you make an informed decision about your career prospects. Once you've made the call and are ready to face the job interview, here are some signs you can look out for, to know you've definitely made the cut:
A lot of smiles: If your interviewer is smiling a lot while making conversation, chances are he thinks you're the right fit for the job. Try to keep the interviewer engaged in conversation and make sure it's not a one-sided effort alone.
Personal questions: If the interviewer asks a lot of questions about your personal interests, hobbies and your family, rather than just what you have mentioned in your resume, you can be at ease as he probably thinks of you as a good fit for the company. We suggest you too try to make conversation that is not solely about the job.
Insights into the company: If you are being told about your job role in detail rather than just a few words, you can be sure that you have landed the job. It is unlikely that someone would waste any more time than necessary to explain your role to you. Take this as a good sign and start prepping for your new job. Our Skills Assessment Test will provide the recruiter with a better understanding of your strengths and weaknesses, so prepare accordingly.
References: If you are being asked for references from your teachers and professors, you are at least in the running to be hired by the company. So, make sure you know exactly who you'd like to have as your references.
Office tour: After the interview, if your potential boss decides to give a tour of the workplace, he probably sees you as a person sitting at one of those office desks in the future. So enjoy the tour and get ready to be hired.
Duration: They say that within 10 minutes of an interview, the recruiter has already made up his mind about whether or not you are fit enough to be hired. So, if your interview runs for more time than that, chances are that you are a potential hire for the company, especially if the exchange of dialogue goes beyond just work.
Testimonials
---
"HireMee has been a great experience for our students and the college. HireMee helped us understand where our students stand and showed us areas where they needed additional training. From the demo session to the exam, your team has been a tremendous support to us."
Ramakrishnan & Naveen Kumar,
Placement Officer, Salem College of Engineering and Technology
The selection process of your company looks unique. It is automated, lean and agile. From the PO's perspective, it ensures that every data is uploaded by the student and ensures its accuracy. From the student's perspective, the experience is seamless as he can upload data from anywhere.
S.Sivaramakrishnan,
Training & Placement Officer, Nandha Educational Institutions, Erode
The HireMee platform gave us an opportunity to showcase our talents which in turn resulted in getting placed in our dream company. The job assessment test was very useful to us. It helped us to reach our job goals. The assessment platform is innovative and allowed us to upload 20-second video resumes.
Malasri,
Final Year CSE, Sir C R Reddy College of Engineering
I got selected for Vee Technologies through the HireMee Platform. I would like to thank you for such a platform which tests all the skills needed by recruiters. The HireMee app is more like a social network with a lot of interesting features which makes the job search easier.
Ramya Sree,
First Year CSE, Sir C R Reddy College of Engineering
Hiremee is a good platform for freshers seeking placement in reputed companies. The Hiremee platform has such an environment with more than 30 companies. The assessments tests the subject knowledge and mathematical knowledge of the candidate. The subject related questions are simple and logical. There is also a phase where they test our positive attitude.
Abdul